SIXTH DISTRICT PROBLEM SOLVING COURTS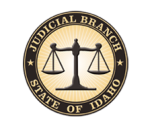 Sixth Judicial District
Counties Of
Bannock-Bear Lake-Caribou-Franklin-Oneida-Power
One Success story at a time.
JoAnn Martinez
Sixth District Manager
PH: 208-220-2804
FAX: 208-236-7011 
joannm@bannockcounty.us 
The goals of Problem Solving Courts are to reduce the overcrowding of jails and prisons, to reduce alcohol and drug abuse and dependency among criminal and juvenile offenders, to hold offenders accountable, to reduce recidivism, and to promote effective interactions and use of resources among the courts, justice system personnel and community agencies.
Problem Solving Courts divert non-violent, substance abusing offenders from prison and jail into treatment. By increasing direct supervision of offenders, coordinating public resources, and expediting case processing. Problem Solving Courts can help break the cycle of criminal behavior, alcohol and drug use, and incarceration.
Click here for Problem Solving Court Application Packet
WHY TREATMENT COURTS ARE NECESSARY
All fifty State Supreme Court Justices agree: Drug Courts are "the most effective strategy for reducing drug abuse and criminal recidivism."

--Conference of Chief Justices/State Court Admin. 2004

"The most rigorous and conservative scientific "meta-analyses" have all concluded that Drug Courts significantly reduce crime as much as 45 percent more than other sentencing options."
"Family re-unification rates are 50% higher for Family Drug Court participants."
"Drug Courts are six times more likely to keep offenders in treatment long enough for them to get better."
"80% of offenders abuse alcohol or other drugs, 50% of jail and prison inmates are clinically addicted, and 60% of individuals arrested for most types of crimes test positive for illicit drugs at arrest."
"Drug Courts produce cost savings ranging from $3,000 to $13,000 per client. These cost savings reflect reduced prison costs, reduced revolving door arrests and trials, and reduced victimization."
"Since 2004, the number of veterans being treated for mental illness and substance-use disorders has increased 38%. It is estimated that out of the over 2.4 million veterans of the wars in Iraq and Afghanistan, approximately 460,000 (20%) suffer from post-traumatic stress disorder (PTSD) or major depression."
Click on the County for the Drug Court