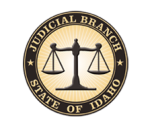 Sixth Judicial District
Counties Of
Bannock-Bear Lake- Caribou-Franklin-Oneida-Power
Striving to empower families to make their own decisions through educational programs & support services.
Bannock County Courthouse
624 E. Center St. Room 106
Pocatello, ID 83201
Office: 208-236-7416 / 208-236-7432 
Fax: 208-236-7431
lacyp@bannockcounty.us 
Family Court Services (FCS) helps resolve cases involving children and families through the combined efforts of the courts, the family, and community services in ways that are less adversarial and intrusive.

SERVICES OFFERED
Core Services developed under the Children and Family Courts Committee (CFCC) are in bold.
Brief Focused (Family) Assessments
Case Coordination 
Child Custody Mediation
Child Interviews
Community Resources
Community Education
Court Assistance Forms
Domestic Violence Court Coordinator
Focus on Children Co-Parent Education

Guardian & Conservator Monitoring
Idaho Family Civil Intake Screening
Internship Programs
Legal Resources/Workshops
Co-Parenting Applications (Apps)
Parenting Time Evals. (Custody Evals.)
Parenting Coordination
Parenting Plan Assistance
Silver Linings (Children's Support Group)
Supervised Visits and Exchanges
Training and Peer Consultation
By utilizing FCS, parties find they have the capacity to achieve healthy transitions through change because they are empowered with information to make informed decisions about their family's future. 
Lacy Parker, LMSW, FCSM
Family Court Services Manager
Divorce/Custody Services
208-236-7416 (Office)
208-234-7432 (Fax)
lacyp@bannockcounty.us

Arianne Despain
FCS Admin. Assistant
208-236-7432
arianned@bannockcounty.us
Kimberly Talbot, LSW, MPH
Domestic Violence Court Coordinator
208-236-7421
kimberlyt@bannockcounty.us
Alex Diedi
DV High Risk Coordinator
208-236-7364
alexd@bannockcounty.us

Rebekah Gruel
Lead Court Assistance Officer
208-236-7067
rebekahg@bannockcounty.us
Sandra Thoen, BS
Guardian & Conservator Monitoring Coord.
208-236-7422
sandrat@bannockcounty.us
NOTICE:  Family Court Services does not represent parties or any of their interests.  While confidentiality practices concerning anything discussed are utilized, it is not guaranteed.  Family Court Services may provide services to the opposing party/ies (other person/s involved in the same case).  Family Court Services can only give information; not interpretations of laws or strategies for any case.  If seeking representation, a confidential consultation, or legal advice, you will have to consult with a private attorney.